Work for the 2019 NCAD evening school exhibition.
Themes
Seperation/Wholeness (Holograph)
Holography as an instrument of wholeness, grief as a kind of separation. To be in a state of grief is to be removed, but holographically complete. What is the process of restoration? It is a matter of fidelity, resolution and clarity. The larger the whole, the richer the wholeness.
This I find very interesting, as it resonates with my experience. While suffering you are still outwardly complete and perhaps even inwardly as well, but clearly there is a deficit at work, what is it which you lack in this case?
A holograph defies framing

You can not erect a single stable frame for all perceptions

And the idea of synecdoche follows here as well

On a personal level, you are the part which represents the whole
That recognition, inwards and outwards, in a solipsistic way
Parents
The continuation of the self from other selves
Emotional history of others encoded in your own maladies

The epigenesis of grief
Grief thats larger than one lifetime
That's harder to see let alone confront
Destruction
Separation of things is required for analysis of them

You must kill a thing to analyse it
Life is always observed in wholeness
In this way it defies analysis

The absence of separation is connection with the whole, awareness, spirituality

Who wants to be responsible for reconstructing an entire universe from the bottom up?
Memory/Time
Imagery as the primary modality

But imagination is the bigger part vs. recollection

Higher-kinded memories, memories of memories
Stories you reinforce

Volatility and preservation of preferred experience
Do not remember too often or too vigorously, or you will taint them

Time

Rendering higher dimensions into lower ones
Multiplicity
Rendering lower dimensions into higher ones
Work
Photographic experiments exploring the conceptual holograph, grief, memory.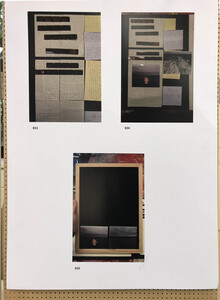 Then, considering higher dimensional events projected to lesser dimensions - expanded three dimensional space and unbounded time on a finite two dimensional area with looped time.
I started with a miniature projector which was to be encapsulated in a box, making the smallest possible screen the only field. To achieve this, a reducing lens was used to adjust the focal length down to a few inches.
This leads to the projector itself, no longer a hidden mechanism, but rather a bound counterweight to the screen. The psychogeographical film loops on the screen continuously.

The exhibition setup. The projector was battery powered, but after the first weekend, I was compelled to use a mains power supply to keep the loop running continuously.